The music department aim to  install a love of music in all pupils, providing an inclusive, nurturing and challenging environment for them to achieve and  succeed regardless of prior experience, background or age. 
Pupils learn to perform and compose on a variety of different instruments, as well as understand music technology, music theory and develop their listening and appraisal skills. Each Term pupils build on their skills and knowledge to apply transferable skills to different topics in order to embed their understanding of musical concepts.
Through the engaging curriculum, pupils are provided with musical knowledge and skills to equip them not only as musicians but as rounded individuals sharing Grace values with one another through persistence, resilience and support.
There are many performance opportunities at Grace Academy. Pupils can take part in concerts including Black History Month, Rewards evening, the Christmas Concert, Christmas Fayre, Summer Showcase and other performances within the community.
There are also a number of enrichment opportunities for all pupils to access enabling them to develop their existing skills or learn to play new instruments including guitar club, brass club, keyboard club, drum club and voice squad.
MUSIC STAFF:
Miss C. Smith – Head of Music
Mrs Y. Cooper – Music Teacher, Head of Citizenship
Ms C. Beaven – Music Teacher, Head of Drama
Mr James – Guitar Teacher
Mr Wilson – Brass Teacher
Mr Kindon – Drum Teacher
KS3
In Key Stage 3 pupils follow the national curriculum through the exploration of a variety of different instruments including keyboard, guitar, drums and music technology. They learn different musical styles and traditions such as reggae, musical theatre, rock n roll, film, jazz and pop.
 Pupils perform, compose and appraise music, both individually and in groups. They learn key skills in communication and team work as well as musicality and expression. The curriculum is designed to give all pupils the opportunity to try and develop their ability on different instruments and to prepare them with the skills they will need to embark on the KS4 BTEC, in which they study performance, composition and music technology.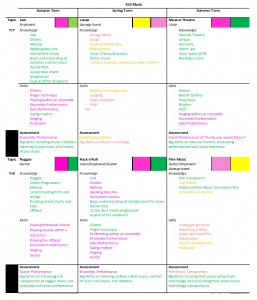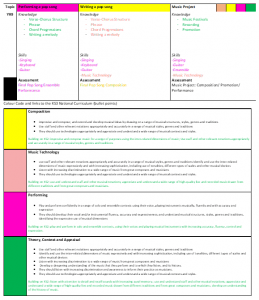 KS4
The Level 2 BTEC First Award in music performance is studied in KS4. Pupils take 4 units of which 2 are compulsory and 2 optional from the remaining units. Each unit is worth 25% of the total BTEC and is given a Level 1 Pass, Level 2 Pass, Level 2 Merit or Level 2 Distinction.  
  Unit 1: The Music Industry (Compulsory). 
This is the only examined unit and equips learners with the basic knowledge of how to succeed in the music business. The unit covers topics such as roles, working patterns, copyright and health and safety in the music industry.
  Unit 2: Managing a Music Product (Compulsory)  
Pupils work together to create a CD or run a music event. Throughout the unit pupils are constantly assessed on their ability to work as a group through the planning and development of their product. Each pupil creates a promotional item for their product, with the target audience in mind and on completion evaluate the success of their product.
Unit 3: Introducing Live Sound 
This unit provides pupils with the opportunity to learn how to operate a PA system, create different mixes and take into account the health and safety risks at an event. Pupils are assessed through creating their own risk assessment, planning, and taking on the role of a sound technician for an event.
 Unit 4: Introduction to Composition 
Pupils learn different compositional skills and they create a portfolio of ideas, developing these into a final piece of music by following a brief. They are assessed on their creativity and compositional technique throughout the project.
  Unit 5: Introduction to Music Performance 
Pupils learn the skills required to be a performer. Pupils are assessed on their ability to set SMART targets, develop their performance through rehearsal management and evaluation and perform two pieces to an audience.
  Unit 7: Introduction to Music Sequencing 
This unit equips learners with understanding of different sequencing techniques. Pupils create a presentation on how to use sequencing software and then a final arrangement or composition using the techniques they have learned.