The Maths department are committed to helping students gain a strong mathematical foundation. We will teach them to demonstrate fluency through depth of knowledge which will in turn help them to develop their problem-solving skills. Our approach will take on many forms such as independent tasks, group work and investigations. We aim to change the stigma of 'I can't do Maths!' and for all children to encourage a curiosity about the subject. Through Maths students are able to increase life chances by facilitating the ability to apply mathematical skills and knowledge confidently in their lives in a range of different contexts.
The curriculum design has been carefully organised in a coherent way, ensuring children can build on their knowledge and skills from year to year. In this way, the knowledge and skills in the curriculum is cumulative, constructing firm foundations from which children can progress and develop deeper conceptual understanding and subject-specific skills over time. 
Students have the opportunity to demonstrate their depth of knowledge by entering the UKMT Challenge where students can achieve gold, silver and bronze awards. The department also has a cross curricular link with Science through the STEM club which allows students to get creative and really apply their new-found knowledge. There are also KS3 & KS4 enrichment clubs to help support students.
MATHS STAFF:
Miss Nicola Robinson – Director of Mathematics
Mrs Israel – KS4 Co-ordinator
Mr Garner – KS3 Co-ordinator
Mr Smith – Teacher of Maths & Duke of Edinburgh Co-ordinator
Mr Swann – Head of Year 11 and Teacher of Maths
Mr Elliot– STEM Co-ordinator & Teacher of Maths
Mrs More – Teacher of Maths
Miss Lucas – Teacher of Maths
KS3
Our KS3 curriculum is divided into three pathways; Pi, Theta or Delta. These pathways are tailored to the student's attainment within the subject and aim to provide students support and challenge. Across the three years students will study topics under all strands of Mathematics; Number, Algebra, Geometry and Measure, Probability, Ratio and Proportion, and statistics . The schemes take a mastery approach to enable students time to deepen their understanding and apply their knowledge within a reasoning and problem-solving setting. Pupils are assessed regularly in Maths through the use of Exit Passes at the end of lessons, Mini-assessments mid-way through a half term and Assessments at the end of each half term.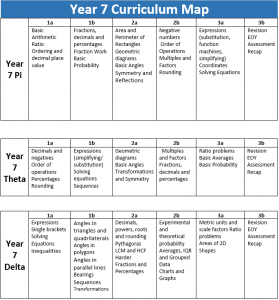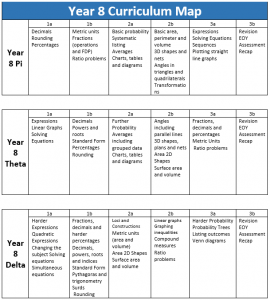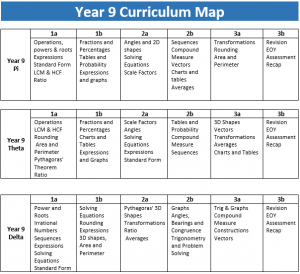 KS4
The primary exam board used for GCSE maths in the academy is Edexcel. The higher or foundation pathway taken by students is dependent in the KS3 pathway taken a t KS3. This qualification in mathematics encourages students to develop confidence in, and a positive attitude towards, mathematics and to recognise the importance of mathematics in their own lives and to society. This qualification prepares students to make informed decisions about the use of technology, the management of money, further learning opportunities and career choices. The course aims to build on knowledge and skills from KS3 with an emphasis on application of skills. This will allow students to make connections between mathematical concepts and cross curricular subjects. A key benefit of the course is gaining the ability to apply the functional elements of mathematics in everyday and real-life situations. There is a greater emphasis on problem-solving and mathematical reasoning, with more marks in the GCSE exams being allocated to these higher-order skills.
In year 10, PPE exams will take place in January and June to track progress, and identify any intervention requirements.
Year 11 students will complete three sets of PPE exams in October, January and March to track progress & enable pupils to feel confident and as prepared as possible for the final summer exams.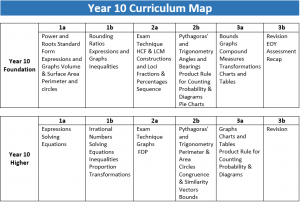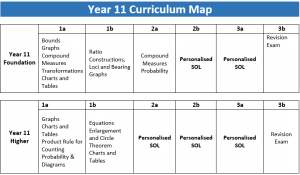 Revision guides
Revision guides for GCSE higher and foundation Maths courses are available to purchase from the Main Reception using ParentPay.