Overview
The Science department aims to give students the opportunity to build upon their prior scientific knowledge and develop skills such as designing investigations, gaining reliable data and exploring how to work safely within the lab. During their time at Grace Academy, students will complete units in Biology, Chemistry & Physics, and pupils are given the opportunity to undertake a range of practical work to enable them to develop and extend their knowledge, and make links between concepts.
Within Science we operate a spiral curriculum, and topics continually link back to prior learning which reinforces understanding and helps pupils to make links between concepts and topics. This linking back approach is designed to help pupils become more confident in tackling more abstract ideas, and enable them to be resilient when approaching exam questions.
The department carries out a number of extra-curricular activities including STEM Club, which gives pupils the chance to complete a range of exciting practical activities, as well as KS3 & KS4 Support Clubs to help support students to enable them to achieve their best.
SCIENCE STAFF:
Mr T. Stephenson – Head of Science
Mr E. Taylor – Deputy Head of Science/ KS3 Co-ordinator
Miss L. Duncan- Deputy Head of Science/ KS4 Co-ordinator
Mr M. Jones – Learning Leader (BTEC Level 3 Science)
Mrs K. Wadelin- Clarkson- Assistant Principal/ Teacher of Science
Mrs S. Palmer- Teacher of Science
Miss C. Eluwa – Teacher of Science
Mrs K. Weston – Senior Technician
Miss M. Gibbins– Science Technician
KS3
Pupils in Year 7, 8 & 9 will complete a range of topics that cover the three Science disciplines. Lessons are built around the "Big ideas", and wherever possible, concepts are linked to real life to help scaffold understanding and help pupils to see the importance of Science in the world around them. Students are given the opportunity to complete lots of practical tasks that help them to develop their scientific skills. The KS3 curriculum covers a broad range of content, designed to help prepare them for the GCSE course. Students are assessed by the completion of half-termly assessments which will cover content from that half terms topics, as well as previous units.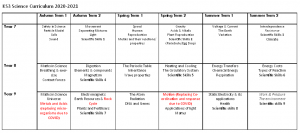 KS4
Our GCSE Science courses start in Year 10, and follow the AQA specification. Students will complete either the Combined Science Trilogy or Triple Science (Biology, Chemistry and Physics) qualifications. Lessons frequently link back to prior learning from previous units in KS3 & KS4 in order to help pupils recognise the links between the topics they have covered, and support them to develop joined up thinking. Students are assessed through the completion of half-termly assessments which will cover content from that half terms topics, as well as previous units. In year 10, PPE exams will take place in January and June to track progress, and identify any intervention requirements.
Year 11 students will complete two sets of PPE exams in November and March to track progress & enable pupils to feel confident and as prepared as possible for the final summer exams.


Revision guides
Revision guides for GCSE courses are available to purchase from the Main Reception using ParentPay. AQA Combined Science Trilogy revision guides are priced at £5.00, and Triple Science revision guides are £2.75 each. Triple Science pupils will require the revision guide for each subject.
KS5
Our Year 12 & 13 pupils have the opportunity to complete the BTEC Level 3 National Foundation Diploma in Forensic Investigation. This course follows the Pearson specification and is equivalent in size to 1.5 A Levels. The course covers key concepts within Biology, Chemistry and Physics, practical scientific investigation skills and procedures, as well as Forensic investigation procedures and Forensic Fire Investigation modules. Students are assessed through a range of examined and internal coursework units, as well as completing a range of assessments and PPE mock exams throughout the year to identify strengths and intervention requirements.

Unit 1 – Principles and Applications of Science
Unit 2 – Practical scientific procedures and techniques
Unit 3 – Science investigation skills
Unit 4 – Investigation procedures in practice
Unit 8 – Physiology of the Human anatomy