The Curriculum at Grace Academy Darlaston
Curriculum Context and Strategic Intent
Grace Academy is a vibrant, inclusive place to learn. Our aim is to develop students into well-educated, considerate and caring citizens with a strong sense of values, who will succeed in and contribute to, modern society.
At the heart of the Academy is our passion to provide an outstanding education which develops the whole person.
Our curriculum has been designed to provide our students with the core knowledge which provides the foundation to their future and has been sequenced and planned so we can develop confident individuals who can become active and economically self-sufficient citizens.
The curriculum we offer is broad and has been planned in a way to support students to be successful and resilient within their learning. We aim to maximise each student's cognitive development, as well as their individual talents. Students are at the heart of our curriculum. We aim to provide them with the ability to think, criticise information, and how to be active rather than passive learners. Our balanced curriculum underpins what we are trying to do. Staff are united in their desire to enable all students to make progress. There is a requirement for students to have specific subject knowledge, skills and understanding in a broad range of disciplines, which allows them to become more comfortable and confident within wider society. Simply put… knowledge is not an imposition. It is the key to removing social barriers and opening the door to opportunity.
The Key Stage 3 Curriculum
Students study a progressive curriculum that builds on skills and knowledge learned at Key Stage 2 over a 3-year period. The programme develops resilient and independent learners in the full range of subjects.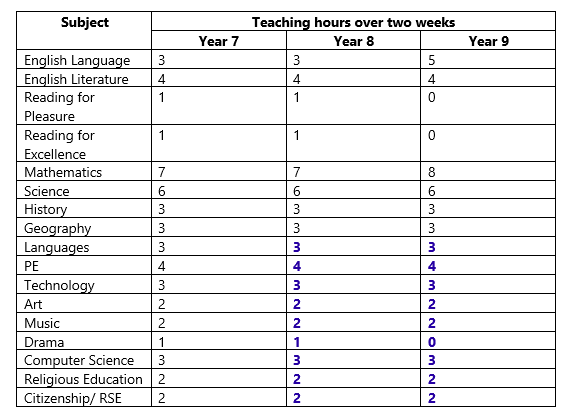 The Key Stage 4 Curriculum
In years 10 and 11 students follow a core curriculum of English Language, English Literature, Mathematics, Science, Physical Education, and CR which covers areas of Citizenship, Religious Education and Relationships, Sex and Health Education.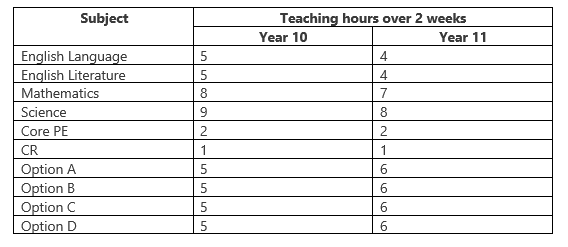 We are ambitious to increase the number of students who are successful in completing the English Baccalaureate. All students study History and/or Geography and we are planning for an ongoing increase in students studying a Modern Foreign Language.
Students choose their additional options from the subjects below.
Geography
History
Religious Education
Citizenship
German
Triple Science
Health and Social Care
Hospitality and Catering
Information Technology
Music
Art
Textiles
Sport
Engineering
Sociology
Psychology
Post 16
Post 16 courses are decided after students have initially indicated their preferences. Therefore, the offer varies year on year. However, the courses on offer will be selected from those below.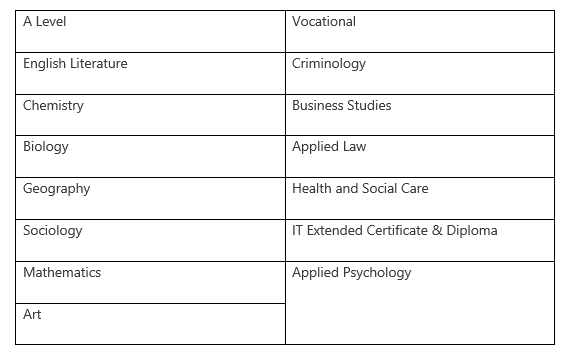 Post 16 students will also complete one period every two weeks of CR, which combines elements of Citizenship, PSHE & Careers. Any students who have not achieved a grade 4 in English language or Mathematics continue to study these subjects.
The Wider Curriculum: Careers Guidance, Work Experience and Enrichment+
Our curriculum also encompasses a rich and ambitious character curriculum to prepare our pupils for future success.
Whilst we ensure to personalise and tailor our guidance through 1-to-1 appointments at crucial stages in Years 11, 12 and 13 and offer a referral service for all year groups, we recognise the importance of exposing our pupils to a range of aspirational employment, training and educational opportunities.
Our Careers provision is embedded within our tutor time programme across the Academy, in the curriculum in Years 7 to 9 and regular termly events with employers, HE and FE providers. Our Careers Fayre opens the minds of our students from Year 8 upwards to their future employment and educational options. Students at Year 11 and Post 16 are introduced to a range of HE/FE providers who lend their expertise in interview and application writing. Year 12 students also participate in work experience as part of their curriculum to prepare them for employability.
Our Enrichment+ programme offers a wide range of free of charge extra-curricular opportunities to all of our students. Our programme aims to help them to express and explore their developing character and interests, while nurturing their talents and building the skills they need for their future such as confidence, resilience and empathy.
In addition, throughout the year, students participate in "Drop down days" when the normal timetable is suspended. These days allow students to learn in different ways, often with outside providers. These workshops cover subjects such as:
Building Healthy Relationships
Staying safe
British values
Anti – bullying
Preparing students for life in modern Britain
Safeguarding
Cultural capital
Relationships Sex and health Education