Level 1 and 2 BTEC (Technical) Travel and Tourism – Curriculum Intent
"Traveling – it leaves you speechless, then turns you into a storyteller" – Ibn Battuta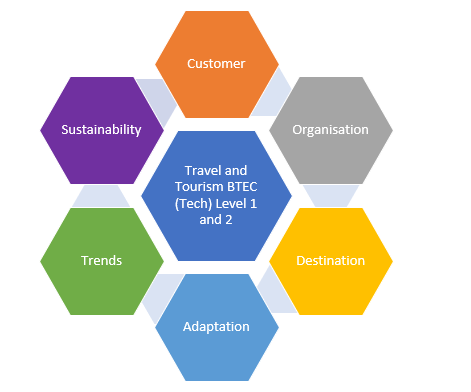 KS3
Travel and Tourism at Grace Academy Darlaston aims to equip students with the skills and knowledge required to become globally aware travel experts. Students will already be globally aware through the way in which the KS3 Geography curriculum is sequenced, with place knowledge being one of the fundamental layers of the Geography intent. This place knowledge of physical and human geography of the past, present and future gives students the foundation knowledge to be able to develop further by studying Travel and Tourism.
Students will gain an understanding of the economic importance of the sector and become prepared for entering jobs in the world of travel and tourism, as well as preparing and inspiring students to undertake their own travels. The subject provides the opportunity to develop high levels of cultural capital through sequenced learning of global travel and tourist organisations, building on knowledge learned in KS3 Geography and complementing KS4 Geography.
Travel and Tourism utilizes a mixture of enquiry-based coursework and examination to assess student knowledge and understanding. Students must submit four pieces of coursework and sit one exam, this allows students to explore a number of areas within the subject and create a long write based on supporting research.
KS4
In year 10, students are initially taught about the different types of organisations, their aims and how they work together. This gives students a basic grounding in the different types of tourism organisations and allows them to prepare for their first piece of internally assessed coursework where students analyse a travel and tourism organisation. This coursework allows students to construct knowledge through the research of a specific organisation and application of base theory to develop an assessed piece of work. Students then continuously build on this knowledge further by looking at the different types of destinations, tourism and accommodation types. They will use information from Learning Aim A to assist in completing the coursework for Learning Aim B where they discuss a travel and tourism destination.
As students work towards their exam, they will connect real life examples of tourist organisations and destinations that they have studied, along with provided examples, to recognise the variety of factors that affect the global tourism industry. Students are exposed to the wider impact of travel and tourism and its impact on the world. They spend time looking at how it can be sustainable and link back to real life examples they have researched to understand how the aims of an organisation can influence the behaviour of an organisation, this knowledge broadens their understanding of the wider impact of travel and how this sector affects multiple different areas. When looking at destination management, explicit links are made to the types of destinations discussed and researched in Component One, and links are also made with the wider Geography curriculum to explore the impact that development has on a destination.
In preparation for Component Three Aim A, students explore the trends within travel and tourism and build on existing knowledge from Geography, Maths, Business Studies and other areas of the curriculum. They look at research methods to enable them to gain a full understanding of how the industry works with customers to understand what they want and need. Students then complete an assessed research project to explain how travel and tourism organisations respond to changing trends within the tourism sector.
The needs of the customer are threaded through the travel and tourism journey, with regular reference being made to customer satisfaction, requirements, needs and desires. However, knowledge is deepened and extended through Component Three Aim B when exploring customer needs and preferences. Students have the opportunity to experience a range of scenarios that are based on real life experiences from the travel and tourism sector, connecting them to the customer facing side of the industry and providing further opportunities to build cultural capital and vocational skills. These scenarios complement the learning provided ahead of the final piece of assessed coursework which is also enquiry based looking at how products and services meet customer needs.
Level 3 BTEC Travel and Tourism Extended National Certificate
BTEC level 3 Travel and Tourism provides a curriculum with breadth and ambition that allows all of our students to be able to achieve the BTEC National requirements. The intent is to build on what students have learnt at level 2 but also enable those students who have not completed a level 2 in Travel and Tourism to access the course. This is done through careful sequence and development of topics which utilise the global awareness and cultural capital that pupils will have gained from KS4. For example, in both History and Geography pupils will have a great global awareness of past, present and future.
BTEC's embody a fundamentally learner- centred approached with a flexible unit-based approach. Unit 1 establishes a deep knowledge of the world of travel and tourism which is assessed through an external summative examination. In unit 1 pupils will explore the key components and scale of the travel and tourism industry, using data to analyse key trends and the impact they have.
Pupils will then progress onto unit 9 Visitor attractions, which is an internally assessed unit. In this unit they build on the analytical skills they have developed in unit 1 by investigating the nature and role of both built and natural attractions. They evaluate and analyse their commercial success, appeal, response to diverse visitor needs and the importance of delivering a memorable visitor experience.
Global destinations is an external decision making based assessment. Similar to what students have experienced in Geography at both KS3 and KS4 when they have to absorb information and then make decision based on the information. Pupils study the features and appeal of global destinations, travel planning and the factors and trends affecting the changing popularity of global destinations. This unit helps pupils to deepen their global awareness and broaden their knowledge about the world. It equips them with the skills needed to organise a holiday for different types of visitors to a variety of places around the world.
The Principles of Marketing in Travel and Tourism is a synoptic unit which consolidates all of the learning from the other three units. It in an internally assessed unit in which pupils investigate the use of marketing in travel and tourism organisations and how to meet customer expectations in order to inform a promotional campaign of their own design.
The four units are sequenced to deliver a curriculum that is engaging, relevant and inspiring. The course enables students to move beyond the classroom by being creative decision makers. Leaving students with the fundamental knowledge and skills to become globally aware travel experts which is our intent.